I have been offline for the past month or so due to moving. As many here know I am a big user of CUAV gear.
I got a new Nora flight controller delivered and decided to go big and replace the Nano V5 on my octo with the new Nora.
The Nora is nice as it has m1-11 that support Dshot.
First step was to unplug and remove all the cabling from my Nano
One thing that I never liked about the Nano was that all the wiring came out of the top. Similar to my V5 cube flight controller but more exaggerated as the motor wires come up the top too
Pretty simple to remove… A little about what I have connected to the FC:
Benwake TF mini
ESC telemetry
Holybro Tele Radio
Frsky telemetry
CUAV CAN PMU
CUAV CAN GPS
CUAV GPS
Tarot Landing Gear Controller
My Nano V5 was sitting on an antivibration plate. I decided to keep that and just mount the Nora on top of it.
The layout is very nice. Motors and power in the back and the other connections in the front.
I needed to remove the power supply cable from the Can PMU as replace it with the Nora cable.
I do really like how the info LEDs are on the top and the side of the Nora. To me, someone spent some time to really get the layout right.
After connecting everything I did all my calibrations. The lights are really nice

Nora runs a RM3100 compass internally so I left that enabled.
My Nano V5 had all my PIDS dead on and felt great. To shortcut the autotune process I exported the config of my V5 and just imported it into the Nora.
I got the compass's calibrated this evening along with a motor test.
Tomorrow I will mount the props and take it for a quick flight… then onto an autotune.
I will post updates to this thread
Took a short flight today as I had a little time this afternoon. I am using the settings from the CUAV NanoV5 that was on there before, so no autotune has been done yet. After my flight I did feel the motors and the were warm. So that leads me to believe that the Nora is compensating way faster than the Nano, which is should based on the CPU.
Auto tune later… However…
Here are some charts from my flight today.
Vibrations are way low which is awesome. Nora does have a heated IMU as well as internal dampening. For full disclosure I do have the Nora mounted using Kyosho Zeal vibration gel pads on a carbon fiber antivibration plate. 

Raw Vibes

And IMU Vibes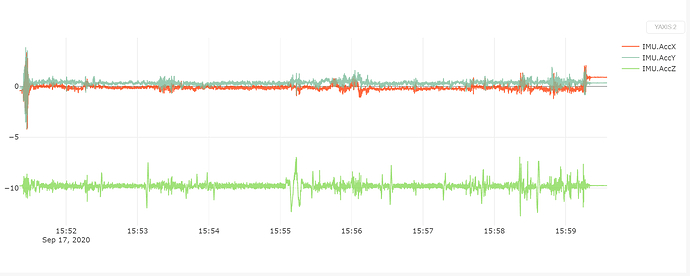 I do use the CUAV CAN PMU for power measuring as well as the data from my BLHeli32 Tekko F3 Metal ESCs. They are extremely close as I would expect…

This weekend I will perform an autotune and get this ship even more dialed in. So Far I am really liking the NORA flight controller. I also bought a X7 Cube to replace my V5+ cube… But that's a project for another day
Finally Spent some time tuning my Nora power Octo. Ran through a .06 and a .08 AT. It's amazing how stable this Octo is.
Vibes are great:

Tune Looks pretty good too: