ISM 900 MHz 工作频率
功率输出为 1 mW 到 1 W(最远 40 英里)
256 位 AES 加密
支持多种高级网络选件和拓扑
内置USB&TTL接口
透明TTL数据传输
支持常见无人机飞控,如PixHack
CNC 航空铝合金外壳,拥有良好的抗干扰能力
BENEFITS – Indoor/urban range up to 1000 feet
– Outdoor line-of-sight range up to 40 miles (with high gain antenna)
– Outstanding receiver sensitivity (-110 dBm @ 9600 bps)
– Peer-to-peer, point-to-multipoint, repeater and DigiMesh networking topologies
– Adjustable power output from 100 mW to 1 W; up to 4 W EIRP (with 6 dBi antenna)
性能
功率输出: 1 mW – 1 W (0 – 30 dBm),软件可选择
室内/市内距离: 最多 3000 ft (900 m)
室外/射频视距范围: 最多 40 英里 (64 km)
射频数据传输率: 默认 115.2 Kbps 可选9.6K
接口数据传输率: 高达 230.4 Kbps
接收器灵敏度: -110 dBm(9600 bps 时)
网络
扩频类型: FHSS(跳频扩频)
网络拓扑: DigiMesh®,端到端,点到点,点到多点和中继器
错误处理: 重试和确认,多重传输
过滤选项: VID(供应商 ID 编号),通道和寻址
通道容量: 10 个跃点序列分享 50 个频率
地址分配: 每个通道提供 65000 个网络地址
加密: 256 位 AES
电源
供电电压: 2.8 – 5.5 VDC(经调整)
发射电流: 730 mA(5V 时,1W 发射功率输出)
接收电流: 80 mA(5V 时,1W 发射功率输出)
掉电电流: 一般是 5 µA
概况
频段: 902 – 928 MHz
串行数据接口: 3V – 5V CMOS UART – 无需配置
物理属性
大小:  (4 cm x 7 cm x 2cm)
重量: 75 g
天线选件: RPSMA
工作温度: -40° C 到 85° C(工业)
认证
美国 (FCC): OUR-9XTEND
加拿大 (IC): 4214A-9XTEND
澳大利亚: Approved (XTH9)
Class I Division 2: 批准(联系 Digi 核实有效性)
X-CTU 下载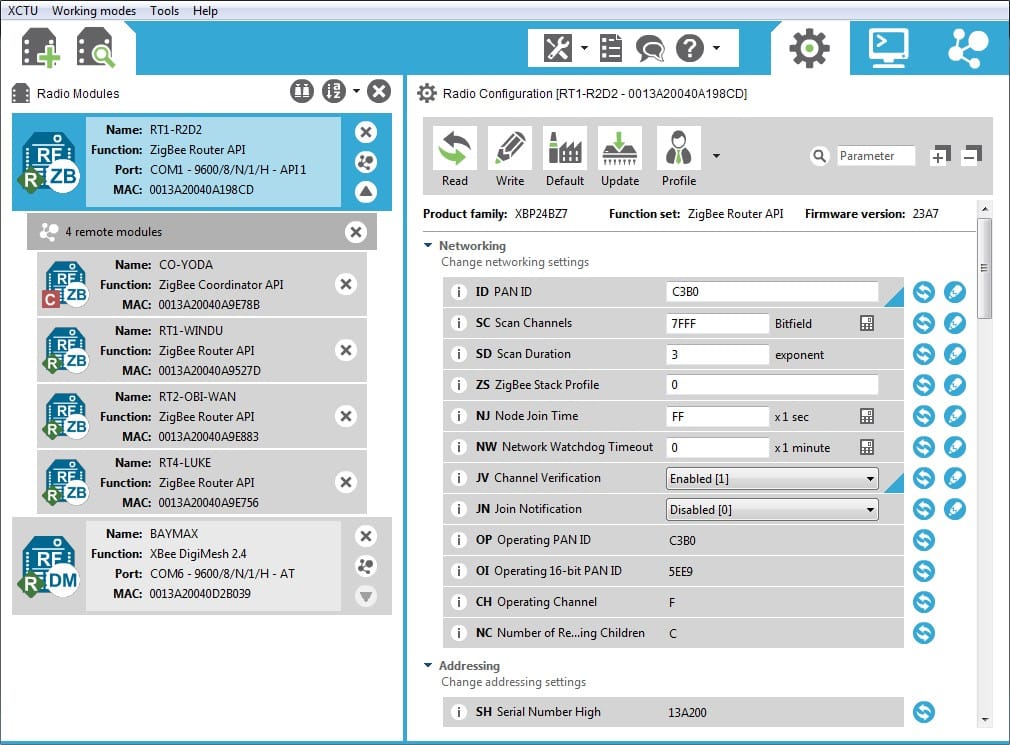 XCTU is a free multi-platform application designed to enable developers to interact with Digi RF modules through a simple-to-use graphical interface. It includes new tools that make it easy to set-up, configure and test XBee® RF modules.
XCTU includes all of the tools a developer needs to quickly get up and running with XBee. Unique features like graphical network view, which graphically represents the XBee network along with the signal strength of each connection, and the XBee API frame builder, which intuitively helps to build and interpret API frames for XBees being used in API mode, combine to make development on the XBee platform easier than ever.
Other highlights of XCTU include the following features:
You can

 

manage and configure multiple RF devices, even remotely (over-the-air) connected devices.
The

 

firmware update

 

process

 

seamlessly

 

restores your module settings, automatically handling mode and baud rate changes.
Two specific

 

API

 

and

 

AT consoles, have been designed from scratch to communicate with your radio devices.
You can now

 

save your console sessions

 

and load them in a different PC running XCTU.
XCTU includes a set of embedded tools that can be executed without having any RF module connected:

Frames generator: Easily generate any kind of API frame to save its value.
Frames interpreter: Decode an API frame and see its specific frame values.
Recovery: Recover radio modules which have damaged firmware or are in programming mode.
Load console session: Load a console session saved in any PC running XCTU.
Range test: Perform a range test between 2 radio modules of the same network.
Firmware explorer: Navigate through XCTU's firmware library.

An update process allows you to

 

automatically update the application itself and the radio firmware

 

library without needing to download any extra files.
XCTU contains

 

complete and comprehensive documentation

 

which can be accessed at any time.